Sculptra is a skin rejuvenation process available at Colair Beauty Lounge & Med Spa that helps with signs of aging. It is a dermal filler that is injected just beneath the skin and plumps up the appearance of fine lines. It's often a choice for those not looking for the full effects of a facelift, but would like a little help combatting nature with the aging process. 
With less visible lines, a fuller face, and collagen stimulator, it's like a fountain of youth in a syringe. Thanks to the process, you'll see natural results and it won't be as dramatic straight on. The reason being is they give you the injections over the period of four treatments. This minimizes problems and allows you to have a natural-looking transition. But does it last?
The parent company says that after your first 4 injections, you can usually go a full 2 years before needing maintenance injections, and tout minimum downtime. Injections take less than an hour to administer. On another note, they highlight that it produces very few issues with allergies based on their choice of ingredients.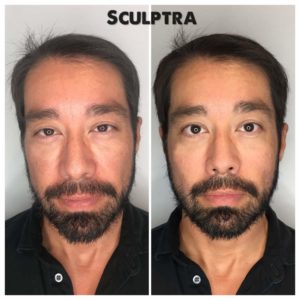 How Does it Work:
Sculptra Aesthetic is made with "biocompatible, biodegradable, synthetic material called poly-L-lactic acid" which naturally reabsorbs back into the body. This product has been FDA approved since 1999, and was then labeled to be used under the name Sculptra Aesthetic as of 2009. They've gone quite a few years without adverse effects! 
When you go to the store and buy collagen creams as many women do to help their aging skin, unfortunately, they simply sit on top of the skin because the molecules are too large to absorb. That's why injections into the dermal layer are so important to get the full effect of plumping the skin. No matter how much certain anti-aging products claim to work, without the right vehicle to deliver the proper ingredients, you're simply slathering your face with a nice-smelling cream. With injectables, they go beneath the surface.
Who is Sculptra Good For?
If you've noticed visible signs of aging around your eyes or lips, or maybe your nasolabial folds (lines under your nose) have become more noticeable, Sculptra may be a great choice for you.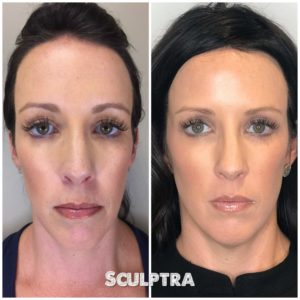 Who is this not good for?
Those under the age of 18, people who are prone to keloids, and if you're pregnant or breastfeeding, you should avoid Sculptra injections. You might get a bit of a tingly feel or swelling after, but it should be minimal.  
What else might you want to know?
While results aren't immediate, the gradual build-up helps with a more natural look. For full results, this can take a couple of weeks to see the final outcome, so it's not a quick trip to the med-spa because you have an event tomorrow night. Instead, allow a little extra time so you can truly stun at that big event. 
Want to learn more about Sculptra or any other med spa services at Colair Beauty Lounge & Med Spa? Swing by or call us at (480) 866-0007.