Let's face it, we're living in the golden age of brows. Ever since Instagram baddies came around, we've been absolutely obsessed over how to get our brows big, bold, and beautiful.
And if you're looking for the latest trend in drool-worthy eyebrows, it's here at Colair Beauty Lounge & Med Spa: brow lamination. It's the easiest way to get the fashionable feathery brows of your dreams.
Brow Lamination Shapes Up Unruly Eyebrow Hair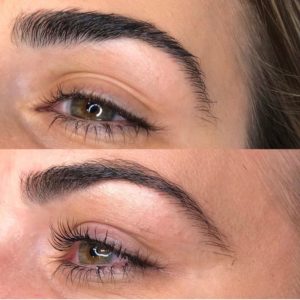 Brow Lamination got its start in Russia, but British models brought it to the mainstream. Basically, brow lamination is like a perm for your eyebrows. A chemical solution is applied to your brows that help to restructure your brow hairs for a more attractive, feathery look.
If you've got brow hairs that can get a bit unruly, this is the treatment for you. It's also perfect for those with unwanted light patches or gaps in their brows. And if you simply want to wake up with Vogue-worthy brows every day without touching a spool, then it's definitely what you want.
Unlike microblading or eyebrow extensions, lamination works with your existing eyebrow hair. It's non-invasive and the results can last up to 8 weeks. And sure, it works best on those who already have a decent amount of brow hair to work with, but it's also great for giving a fuller look to those with fine brow hairs.
What to Expect from Your First Brow Lamination Appointment
When you first get to Colair Beauty Lounge & Med Spa,  you should have an initial consultation with your brow artist. They should explain the treatment and the process and make sure to answer any of your questions. Once you're prepped and ready to go, your brow artist will brush through your brow hairs and apply a gentle chemical product that makes the hairs softer and easy to shape. This should stay in your brows for about 20 minutes.
After that, your artist will shape your brows and set them in place with a second solution. This is a keratin oil treatment that makes your existing hairs big and fluffy while stimulating more hair growth to keep them that way. Altogether, the whole process should take less than an hour.
There's not much you have to do to prep for your brow lamination. Avoid using harsh skincare products like retinol and acne treatments for at least 48 hours before your appointment. These can make your skin more sensitive and irritable to the lamination solution. And to make things simpler at the spa, go to your appointment with a bare face and clean skin.
Your results should last about 8 weeks, but only if you take care of your brows and maintain them. After getting your brows laminated, make sure to:
Keep the affected area dry for 24 hours. Don't apply creams, oils, or eye makeup.
Don't rub your eyes for 24 hours
Skip the gym until tomorrow and avoid a super-hot shower.
Oil your brows nightly after the first night
Don't use retinol or an exfoliator for 72 hours.
And just like that, you've got Cara Delevingne-level brows! If you're looking to seriously improve your brow-game, visit or call Colair Beauty Lounge & Med Spa in Gilbert, Arizona at (480) 923-6138.