Over 80 million Americans suffer from hair loss or hair thinning. But unfortunately, only 2% of people receive treatment. Although hair loss is extremely common, millions of men and women don't do anything about it. The #1 reason is that most are skeptical about thinning hair treatments. 
At Colair Beauty Lounge & Med Spa we know there are many claims out there surrounding hair loss and "miracle" promises. It's natural to be weary of cosmetic treatments claiming to regrow your hair. Plus, most hair restoration programs include several phases, and it can take time to notice the beginning stages of hair growth when you look in the mirror. This is where GroTrack comes in. This game-changing technology is an advanced hair analysis system that examines and measures changes in hair density and thickness. 
We use the GroTrack System at Colair Beauty Lounge & Med Spa to monitor and optimize your hair growth journey. 
What Exactly is the GroTrack System?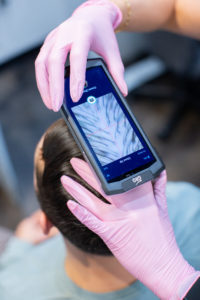 GroTrack is an AI-powered hair growth tracking system. The physician-backed platform was developed to help demonstrate treatment results. We can use GroTrack's hair analysis system for all hair loss treatments.
At Colair Beauty Lounge & Med Spa, we believe one of the most important parts of any hair loss treatment is objective data to monitor hair growth and quantify treatment results. GroTrack is a small hand-held tool that allows us (and you) to track and monitor your hair's progress. We want you to see the results in real time. 
How Does it Work?
Hair loss can be traumatic. At Colair, we have several effective hair loss treatments, including Alma TED; Alma TED is a revolutionary, no pain ultrasound device that uses acoustic sound waves to deliver better blood flow to the scalp. This non-invasive hair growth treatment addresses hair shedding, hair loss, and thinning.We use the GroTrack tool to help monitor your hair growth and offer customized treatment plans. 
For example, if you're doing Alma TED for hair loss, we'll begin by analyzing the current state of your hair and scalp using the GroTrack tool. Then, throughout your treatment, we'll continue to monitor your improvement. 
Remember, hair growth treatments take time. You may see new growth only several months or weeks into your treatment. With GroTrack, you can see close-up before & after images of your scalp, meaning you can see your progress before it's visible to the naked eye. The AI software will also track your hair density, thickness, and follicles. 
What's Included?
Before and after image gallery

Hair growth charts and graphs

Treatment progress review

Hair analysis reports

Database matching 

AI-assisted treatment recommendations
How Does GroTrack Work?
We use the GroTrack system before, during, and after your hair restoration treatments to help you see the progress. Here's what you can expect. 
Step #1: Take Images
We capture high-resolution pictures to begin monitoring your journey. Global images are standard pictures of your hair and face. Macro images are close-up (2 levels of magnification) pictures of your scalp. The Scalp Scan gives us details about your scalp's condition and identifies issues that may be causing thinning or hair loss.
Step #2: Analyze
The images are analyzed using artificial intelligence, machine learning, and computer vision algorithms. The system can detect your hair density, thickness, average hair diameter, and follicle density. This data is used to help give you the best possible hair growth results according to your unique needs. 
Step #3: Track Progress
GroTrack shows your hair growth progress and treatment results. You'll be able to see how much your hair changes after three months into your treatment program. There's also a mobile app that you can use to monitor and check your progress anytime, anywhere. 
Schedule a Hair Restoration Consultation 
If you're one of the millions of men and women who suffer from hair loss, there are things you can do to rejuvenate and regrow your hair. At Colair Beauty Lounge & Med Spa we have several hair loss treatment options to help give you back long, luscious locks. 
GroTrack is a complementary tool to any hair loss or hair thinning treatment. We use the GroTrack System to help diagnose the cause of your hair issues, develop a custom hair restoration plan, and monitor your progress during your treatment. Please reach out to our Gilbert, Arizona location to book a consultation with us today to learn more about how we can help you achieve thicker, fuller-looking hair. Call Colair Beauty Lounge & Med Spa at (480) 923-6138.