Who says you need to get under the knife to achieve better, brighter, more youthful-looking skin? Colair Beauty Lounge & Med Spa knows the importance of looking and feeling your best. This fuels our pursuits in bringing you the very best resources to achieve your skincare goals. 
Plasma Pen Treatment, also known as Plasma Fibroblast Therapy, is a non-invasive skin tightening procedure used to reduce fine lines and wrinkles, diminish acne scars, fade sun spots, and tighten and smooth the skin without the cost and prolonged recovery time of invasive plastic surgery. 
Not sure if the Plasma Pen is right for you or your skin? Here's what you should know about Fibroblast Treatments and what to expect. 
How Plasma Pen Works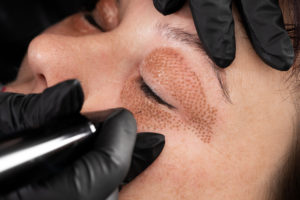 The Plasma Pen stimulates fibroblast cellular activity. Fibroblast cells are responsible for producing collagen in the skin and healing wounds. This FDA-approved device essentially causes micro-injuries to the skin to promote the growth of new skin. 
The pen delivers a controlled electric charge to the skin tissue, and the low-voltage current energizes the thin layer of plasma on the skin. The tiny electrical shock to the skin tissue encourages new fibroblast activity leading to more collagen, elastin, and hyaluronic acid production. 
What Can Fibroblast Therapy Treat?
Most patients opt for Fibroblast therapy to solve skin imperfections around the eyes, mouth, forehead, jaw, neck, and decolletage. However, you can safely use the device on your arms, forearms, hands, knees, lower legs, inner and outer thighs, tummy, breast, and bottom. 
Plasma Pen works its magic in a non-surgical environment to help with the following:
Forehead lines and creases
Droopy or heavy eyelids
Excess skin in the under-eye area
Removing sun spots, moles, blemishes, and other skin tags
Reshaping drooping or misshapen eyebrows
Crow's feet near the eyes
Smile or smoker's lines around the mouth and nasolabial folds
Loose skin around the jawline
Loose skin in the neck area
Stretch marks
Acne and acne scars
The Plasma Pen is quickly becoming a go-to alternative to painful cosmetic surgery. The fast results, diversity, minimal side effects, guaranteed effectiveness, and pain-free application allow patients to see the same results without needles, cuts, stitches, and downtime that often accompanies cosmetic surgery.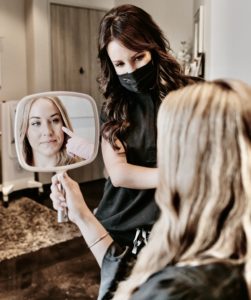 Are You A Good Candidate?
After treatment, you will see a noticeable difference in your skin. The treatment is effective for all skin types; however, some people may be at greater risk of pigmentation problems. As a general rule of thumb, people with a lighter skin tone tend to have better results. 
Your results will also depend on which problem areas you want to target and how severe the skin imperfections are. The best thing you can do is visit your local Med Spa to have your skin examined. 
Where To Get Plasma Pen Treatments
Plasma Fibroblast Therapy should always be performed by a professional. The safest place to get treatment is at an accredited Med Spa. 
When it comes to taking care of your skin, you deserve the best. At Colair Beauty Lounge & Med Spa, our trained RNs work with you to help solve pesky skin issues. To learn more about Fibroblasting your problem areas, get in touch with us today by calling (480) 923-6138.