When it comes to skincare, everything's about getting rid of acne. Whether that means blowing through salicylic acid face washes or trying topical creams to remove the red, ugly bumps from your skin, when you have acne, it's always the first thing on your mind. But what about after you've cleared your acne? You're dismayed to find your skin isn't as perfect as your lofty skin-care products claimed and that the acne has disfigured or discolored your face. Acne scars are easy to get and tricky to get rid of, but Colair Beauty Lounge & Med Spa has solutions. 
The bad news: no matter how good your face wash was at clearing your acne, it won't make a dent on your scars and most washes won't. The good news is there's a few incredible treatments we offer, specially created to target and get rid of acne scars, so you can have clear, smooth skin. In this article, we'll go through the top treatments so you can learn how to remove your acne scars. 
SkinPen Microneedling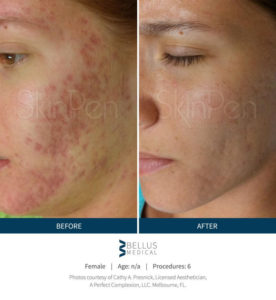 SkinPen was awarded the "Top Rated Treatment for Acne Scars" in 2019 and for an incredibly good reason. The microneedling treatment is one of the most popular within the skincare community and continues to show results for removing acne scars to this day. The SkinPen is exactly as it sounds—a microneedling pen. How it works: Each device contains 12 teeny tiny needles to create a controlled and evenly spaced microneedling environment. Our registered nurses will use the pen to treat only the places you need it. Microneedling works by creating a puncture and drawing blood from your skin. Your skin immediately notices something wrong and hurries to heal the injured area, growing new collagen and elastin.
With the SkinPen treatment, your skin will be targeted over multiple treatments to persuade your skin to continuously produce more and more collagen which makes it an incredible treatment for acne scars. Acne scars are essentially dead or damaged skin, and because there's no open wound, your skin isn't in any rush to heal it. The SkinPen Microneedling treatment tricks it into healing the area faster than it would've naturally. The treatment also results in fewer fine lines and wrinkles, improves skin texture, reduces pore size, and leaves you with plump and healthy skin. 
Platelet Rich Plasma (PRP) Facials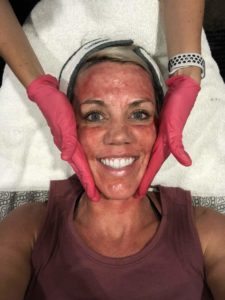 Platelet Rich Plasma facials are big right now, and you might've heard of them being referred to as the "vampire facial". The process itself is a bit weird. One of our registered nurses (some of which work in the NICU of the hospital)  will draw your blood and put it in a centrifuge, a machine that rotates rapidly to separate and enrich the platelets from your blood. Your platelets are then injected directly into your skin through microneedling, which creates the bloody "vampire" look you've most likely seen all over the internet. As weird as it sounds, there's great science behind this method of acne treatment. Platelets are well known for their healing factors as they secrete "growth factors" which stimulate cellular growth and is a common practice within medical fields for joint healing as well. Alongside being an acne marks treatment, PRP facials will also increase your collagen, reduce any fine lines and wrinkles, and you'll notice a tightening and glow to your skin almost immediately. 
Scarlet Radiofrequency (SRF)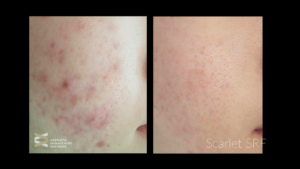 Scarlet Radiofrequency is an incredibly unique dermal treatment for the simple fact that it combines two well-known skin-therapy processes into a singular treatment: radiofrequency and microneedling. The process is relatively simple. With the use of microneedles, short pulses of radiofrequency energy are distributed into the skin. 
The skin responds immediately with the production of collagen and elastin fibers to both repair and tighten the skin, solving a plethora of skin issues, including acne scars. Though microneedling alone can cause a jumpstart in the production of collagen, the radiofrequency increases the production for a faster recovery and cell turnover rate. It's a double whammy. That's not even the best part. The best part about getting SRF over other facial treatments is that there's very little downtime after the treatment, which means you won't be stuck inside your house as your skin peels relentlessly and you won't experience any pain or bleeding. The SRF treatment is also one of the only treatments that are FDA approved. 
Chemical peels 
Chemical peels, also known as the relentless peeling, are just as popular a treatment as microneedling if not even more so. Chemical peels use, as the name suggests, chemicals or acids for application on the face. The applied solution then loosens all the dead skin on the uppermost layer of the face to reveal newer and fresher skin beneath it.  As scary as it sounds, don't worry. These acids are safe to use on the face and won't cause any harm at all. Our skin naturally sloughs off all our dead skin, even if we don't realize it. That dead skin ends up on our pillows and our beds at night but in such small amounts we never really notice them unless we look closely. Chemical peels speed up the process and only remove skin that's already dead and our skin hasn't shed yet. 
Typically, after a chemical peel, clients are advised to avoid the sun at all costs and be generous with the SPF, as new and fresh skin is more vulnerable to sun damage for up to six weeks post-peel.
If the idea of peeling is still detestable to you but you're still interested in acne scar removal, chemical exfoliation is a great at-home treatment. Some peeling solutions you can buy from skincare brands have simple procedures that include applying for a certain amount of time, like a face mask, and then rinsing off. There won't be any visible peeling, despite the name, but these products still remove dead skin with the acidic solution. The results won't be as dramatic or as quick as any of the above treatments, but it's a cheap and relatively simple alternative with zero downtime and a promising future for your skin. 
Fibroblast Plasma Pen
Skin tightening treatments also help lessen the appearance of blemish scarring and redness.
Similar microneedling and SRF, Fibroblast also stimulates healthy collagen in your skin. It goes even further in repairing the connective tissue needed to generate new collagen. The electrical pulses safely rejuvenate the skin, revealing a smoother, more even skin tone.
If you want long-lasting results, you'll be happy to learn that this treatment lasts up to three years.
If you'd like to learn more about how Colair Beauty Lounge & Med Spa in Gilbert, Arizona can help you with your acne scars, please come in for free consultation or call us at (480) 923-6138.