Microdermabrasion is a process that helps remove the top layer of your skin to give you a renewed appearance. You can come to this result in different manners, but one worth considering is via the DiamondGlow treatment device at Colair Beauty Lounge & Med Spa. This non-invasive option allows you to redefine the texture of your skin, which can give you a more youthful appearance, lessen scarring, and reduce dullness. 
How Does DiamondGlow Work?
If you've noticed your face has been lackluster lately, it might be time to freshen its appearance. By gently exfoliating the top layers of your skin, you're allowing for faster cell turnover, a brighter and more vibrant glow that gives off a younger, smoother appearance while evening out your skin's tone.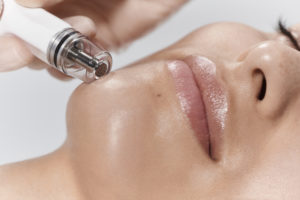 Even Out Skin Tone and Texture
Another area DiamondGlow can help is by adjusting and correcting discoloration and pigmentation issues, such as sun damage. According to their site, DiamondGlow's™ patented recessed diamond tip wand delivers a next-level resurfacing treatment. They do this via physical resurfacing, not simply using a chemical peel, which means there's more control in the finishing touch. 
What is Physical Resurfacing?
Physical resurfacing means fresh skin cells are revealed as the dull, dead ones are gently exfoliated away. But don't take the word gentle as meaning it won't get the job done. On the contrary, DiamondGlow goes deep enough to not only resurface your top layer, but it also helps extract debris from clogged pores. By adding serums to the process, it then infuses these ingredients deeper into the skin. They recommend SkinMedica as a serum, so that while you're doing the deep exfoliation, you can push the ingredients to absorb better. 
According to Allergan Aesthetics, the company behind DiamondGlow, they recommend you get treatments monthly, 1-2 times for continued improvements. 
Recovery Time
DiamondGlow doesn't require downtime like a facelift does, since it's non-invasive. With that being said, it never hurts to avoid the direct sunlight when fresh skin cells are newly exposed. Give your skin time to relax and heal. During the treatment itself, you might feel a light stinging sensation, or a scratching sensation, but this is normal and not a concern. If it's too uncomfortable, of course tell your practitioner.
Lastly, after the treatment, your skin may feel a bit tight as it heals. The process not only removes dead skin cells, but by creating tiny micro tears it creates a process where fibroblasts and collagen become stimulated to turn over cells faster, so you may feel a tad sensitive for a short bit. This is perfectly normal and not a concern. If your skin becomes irritated or inflamed, contact your doctor and check for allergies.  
If you'd like to learn more about DiamondGlow or any of the other services at Colair Beauty Lounge & Med Spa, please visit or call us at (480) 923-6138.