With so many different dermal filler brands on the market, how do you know which one will work best for you? Colair Beauty Lounge & Med Spa is here to help. We'll take a look at the many available brands, and then show you what the unique types of dermal fillers can do. Also, it should go without saying, always be sure you choose an FDA approved brand of filler for the best results.
Popular Dermal Fillers:
Juvederm
Restylane
Revanesse
Radiesse
Sculptra
Bellafill
Belotero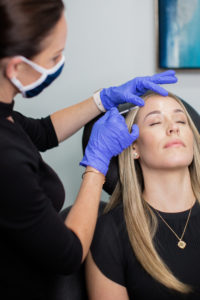 You may notice Botox is not listed. Botox is not actually a filler, but rather helps stop the movement of the muscles in the area it's injected. It is sometimes mistaken for a filler, because it is sometimes grouped with these others when discussing options that help address fine lines.  
Also note, that while the major dermal filler brands are listed, some of these have multiple varieties within their line, such as Juvederm which includes: Voluma XC, Vollure XC, Volbella XC, and Ultra XC.
Types of Dermal Filler Products
When it comes to choosing a dermal filler, it can get confusing with all the different types. Let's break it down to the basics, so you can easily choose the product that would be best for your circumstance. First, there are two types of dermal fillers when it comes to how they react with the body: 
Absorbable and non-absorbable
Ingredient based: natural occurring vs man-mad
When we say a filler is absorbable, it means that once the product is injected into your body, it will eventually break down and can safely absorb into your system. For example, one popular ingredient used in fillers is hyaluronic acid. This is something we have within our bodies, so it's not foreign to it. Your body knows how to break down or use this, so when it absorbs into your body, you don't have to be concerned.
Non-absorbable dermal fillers are considered a permanent type of material, unlike a temporary absorbable dermal filler. In this instance, they may use tiny, specifically made beads that are injected but will remain in place. A great thing to consider is if you're thinking of getting lip fillers but haven't done it before and aren't sure you'll like the results, it would be wise to start with an absorbable product. If you're happy with the results, then you might consider something permanent.
Choosing a Dermal Filler Based on Ingredients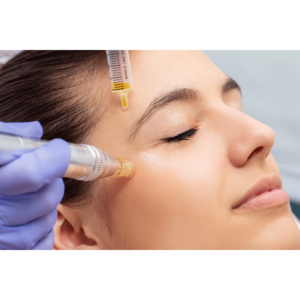 You may wonder how to choose from all of the different ingredients that are used as dermal fillers. At Colair you'll be in the care of our extremely talented registered nurses to help guide you along the way. They'll help go over the different products available and how they can help, but we'll cover a couple basics here to get you started. 
First, consider where you want to use the filler. Will it be to fill in fine lines around your eyes? Or for deeper lines like nasolabial folds? Maybe you're hoping to use filler on your hands or neckline area. Another thing to consider is how long you'd like the filler to last. Looking for a longer-term fix? You might prefer an injectable with calcium hydroxyapatite, which offers up to 18 months of results vs. hyaluronic acid which touts a lasting period of 6-12 months. 
Would you prefer a natural ingredient over a synthetic one? Poly-L-Lactic acid is a polymer that's lab created and man-made, whereas hyaluronic acid which we mentioned earlier, is natural within our bodies. 
Because each product has a unique use, length of time it lasts, and area it works best for, we highly recommend you come in to see us for a free consultation and discuss the areas of concerns so we can help you understand benefits or potential issues of each product offered.
Want to learn more about the dermal fillers available at Colair Beauty Lounge & Med Spa? Come in for a free consultation, or give us a call at (480) 618-7616.